Cherries are a very healthy seasonal fruit that, as well as being low in calories, are full of nutrients such as vitamins A and C, antioxidants, fibre and essential trace elements. The wide variety of cherries come from differences in taste (sweet or sour), colour (different tones of red) or whether they have a stem or not (picota cherries are stemless).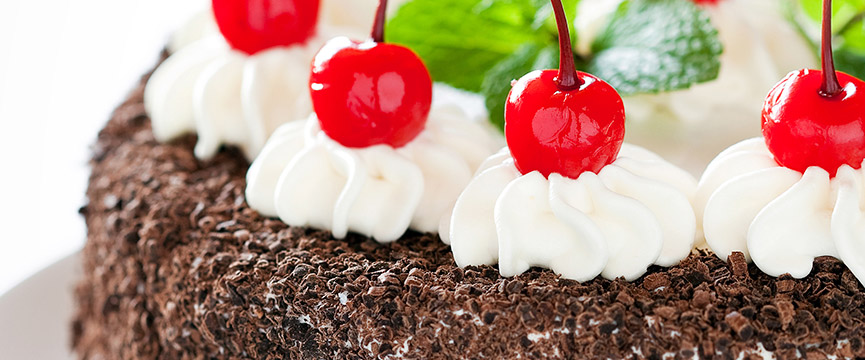 Professional bakers are familiar with cherries and continually use them in their cakes and pastries, in full knowledge of the fact that there is a wide range of cherries with different flavours, textures and colours. Sweet cherries are the most popular variety used in baking, with some sweet dishes using sour cherries too, although these are more often found in liqueurs or as a cocktail garnish.
On the other hand, when it comes to decorating desserts, morello cherries are the leaders, even though not everyone knows that they come from wild cherry trees and are slightly sour.
Most popular types of cherries for baking
This type of cherry is excellent for decorating pies, tarts and sponge cakes; glace cherries are also used in ice cream. They blend well with chocolate and can be used as an ingredient in traditional cakes such as black forest gateau, fruit cake, cheesecake, chocolate cake, cupcakes, muffins, blancmange and custard pies, etc.
This type of cherry has a distinctive dark, almost black, colour and is acidic to taste. They are mostly used to decorate desserts and ice creams, although they can be added with other ingredients to make brownies, clafoutis, pannacotta, cheesecake, cupcakes etc.
Maraschino liqueur is made from this variety of sour cherry, blended with almonds, honey and sugar. Once the cherries are soaked in this liqueur, they have an attractive hue and shine that attract attention, making them popular for decorating cakes, tarts, flans, ice creams and cocktails. They are also used as a filling for cakes or mixed with cream custard, due to the fact that their intense flavour adds a different and innovative twist to the dessert.
This type of cherry has an interesting combination of flavours, with the acidic side of the cherries (which are usually sour cherry variety) meeting the strong taste of the liqueur, which, alongside chocolate or whichever other ingredient used, make for delicious desserts. These cherries are used in cakes, turrones or sweets (for example, in frutas de Aragón jellied fruit), to decorate all sorts of desserts and also as ingredients in new creations made by avant garde pastry chefs.
This type of cherry is traditionally used in baking. They are used frequently for making and decorating cakes, tarts, pies, ice creams and all sorts of desserts due to their rich colour and distinctive sweet taste. They are also eaten for breakfast or can be used in salads. Many restaurants include them in their buffets, with great success.
Drunken cherries are used for making confectionary because they blend perfectly with the majority of spirits, which explains why they are so often used for cocktails. Furthermore, their texture and intense flavour help strengthen the impact of other ingredients such as dark or white chocolate.
Given the fact that cherries are so popular in desserts, it comes as no surprise that brined cherries are the preserved cherries of choice when beginning the process of producing cherries for use in professional bakeries. Brined cherries are used for making candied cherries and maraschino cherries. These preserved cherries offer a wide range of possibilities for bakers, patisseries and confectioners.
Lazaya is the leading brand of preserved cherries
Lazaya has been making preserved fruit for over 80 years and proudly has complete control over the whole production process, from harvesting to processing to canning. Furthermore, Lazaya owns their own orchards, which only serves to show the quality of their final produce.
Knowing how important product presentation is, Lazaya has put a lot of thought into how to help professionals by offering different preparation and packaging in order to meet their wishes. Thus, candied cherries are sold with their stems or stemless, whole, halved or chopped. Cherries are offered in different sizes and different packaging; they come sweetened or unsweetened, or even dextrose-free.
By offering such a wide range of sizes and packaging, Lazaya ensures that professional chefs always find what they are looking for to make their desserts. Not every brand can offer this extensive spectrum of products aimed at professional chefs, products of tried and tested quality for many, many years.
If you seek information or would like further details about our range of preserved cherries, do not hesitate to contact us. We are here to help.