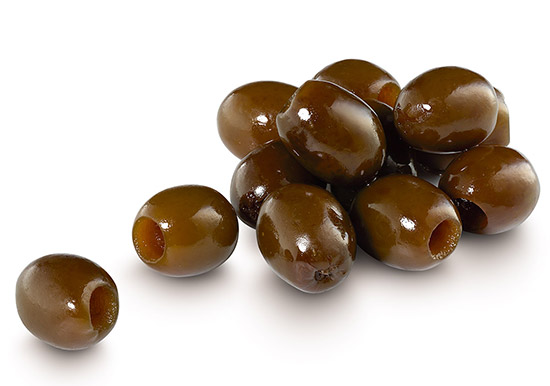 Conservation:

Room Temperature

Season:

All year round

Availability:

En stock

Allergens: 

NO

Certificates:
Options/
○ Whole
○ With Sugar/ Sugar-free
○ Different brix
Lazaya's candied olives come in different formats for the convenience of those who run HORECA establishments, cocktail bars, bakeries and chocolate shops.
Examples of Applications of Candied Black and Green Olives
Foie, apple and olive candied truffle
The olives may come packaged in a plastic container, in a cardboard box with a plastic bag, in a glass jar or tin, and they have a very long expiration date and can be stored perfectly at room temperature, all of which are aspects that are highly valued by professionals. Our candied olives are a product of extraordinary quality and versatility, and contain no allergens, colouring or preservatives. In addition, chefs, bakers or pastry chefs can opt for the sugar-free candied olives, suitable for people with diabetes.
The candied green olives are often used as an appetiser, in vegetable pate, tapenade (olive paste), pasta dishes, rice, quiches, sauces, roasts or salads. In baking, they are used in cakes, focaccias, jams and cookies, among many other products.
Candied black olives, on the other hand, usually go well with tuna and mushroom pizzas, with all kinds of pasta and rice dishes, savoury pies, canapés and salads, as well as in the preparation of pates, foie gras and sauces that accompany numerous dishes.
What is your business area?
You will find specific information and a selection of the most usual products demanded by your food sector.
Chefs and bakers turn to the candied olive to surprise their customers in the decoration and garnishing of many different dishes, as well as in the preparation of delicious cocktails, chocolates, muffins and other sweets. The objective is to make new creations by playing with different flavours, textures and the combination of ingredients, thus offering a new gastronomic experience for all palates.
Experts in Preserved Fruits
If you do not find what you are looking for, do not hesitate to contact us. We develop custom products.